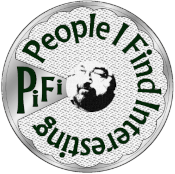 "Have a slice of Pi"
I have always loved interviewing people who have made an impact on history and Clinton Riddle was one of these men. Twelve years ago I started a series of visits with him to capture his story. He is part of the great generation and I was happy to visit and speak with him. I took Alex with me on one trip so he could gain an appreciation for this generation of men. These are the videos I made from my visits. You can see more Clinton Riddle videos in the show archive.
I have had this fascination with history and how people fit into it for a long time and I wanted to teach my children to have the same desire. This was 2011 and Alex had a history project assignment at school so I thought it would be cool for him to interview his grandmother, my mom. I wanted to capture her before dementia took her ability to remember the old days. I think it was a special interview.